Bible Journaling with Stencils & More
Take your Bible journaling to the next level using stencils, acrylics, pen, colored pencils, Gelatos® & collage
Watch Promo
Bible Journaling with Stencils & More will help you take your Bible journaling to the next level. In this course, each Bible journaling lesson includes HD video showing detailed step-by-step processes of how to Bible journal using a variety of mediums: acrylic paint, pen, colored pencils Gelatos© and even a bonus lesson using watercolor. The lessons range from simple, journaling with dry media (pen, pencils & Gelatos®) in the margin, to more complex mixed media (paint, collage plus dry media.) This class is more than learning art techniques. Scripture is woven throughout the class and you will see how to use symbolism to deepen the spiritual meaning your Bible journal pages. There is a lesson on how to do a word study, which is often the basis for developing meaningful imagery. In the class, Bible journaling is made more accessible with the use of stencils. In the demos I am using mostly stencils I've designed, produced by StencilGirl® Products, which can be purchased separately on my website or directly from StencilGirl® Products. Of course the techniques taught can be applied to any stencils you want to use.
17 step-by-step lessons with video demonstrations of techniques showing how to create beautiful & meaningful Bible Journal pages


Here is what is included in this course:
How to skillfully use: Gelatos® as dry media and a wet media, Acrylic Paint, Pen, Colored Pencils, some Collage, and a bonus lesson using watercolors
A variety of challenges from easy, short dry media techniques to layered wet and mixed media
Techniques taught on how to make stenciling not look like stencils
How to cover up bleed through on journal pages
Scripture woven through the lessons
How to do a Scripture word study online
Techniques on how to use stencils for building Bible Margins. Five Bible Journaling stencils designed by Valerie and produced by StencilGirl® Products will be used, plus another one. Stencils can be purchased separately on Valerie's website or from StencilGirl® Products. You can also incorporate stencils you already have and enjoy using
Practicing in an everyday journal
How to make paint sprays
10 downloadable PDFs
Course Curriculum with Video Lessons:

Beginning with play & practice
Bible journaling Christian symbols, plus cleaning painty stencils
Bible Journaling "Love" & "Faith" with dry media
How to do a word study online
Bible journaling "Peace" using dry media
Bible journaling Spirit of Wisdom using dry media
Bible journaling Anchor of Hope - Hebrews 6
Bible journaling Messianic mystery - Hebrews 7-9
Bible journaling the Sacrifice of Jesus - Hebrews 10:10-14
Bible journaling beyond the veil - Hebrews 10-11
Bible journaling trust in the Lord - Proverbs 3:5-6
Bible journaling Psalm 22-24 using acrylics, collage, pen
Bible journaling Psalm 104 using stencils & acrylics
Bible journaling Psalm 95-98 - Joy in mixed media
Bible journaling a Christmas lesson - Luke 2:30-32
Bible journaling the Woman at the well in watercolors - John 4
Bible Journaling the cross Mark 15:33-39
Bonus Bible journaling lesson: The great America Eclipse
NOTE: Stencils sold separately
Your Instructor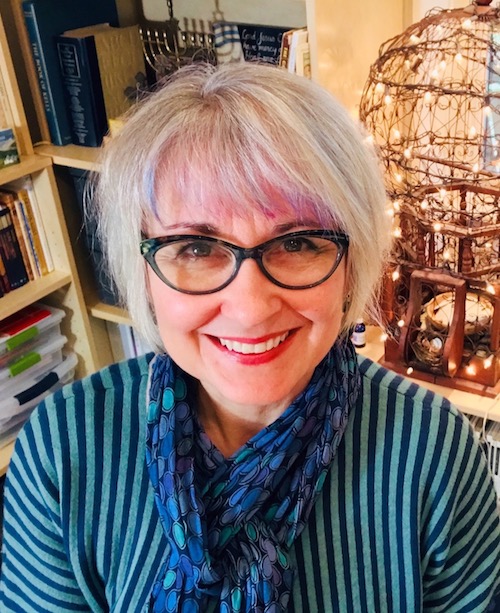 As an adult learner, I earned a Bachelor of Fine Arts in Painting, have attended and taught numerous workshops over the years, volunteered in the Art Literacy program at a local elementary school, taught how-to classes such as: coloring with colored pencils, painting and travel art journaling classes at local libraries; and exhibited art in galleries and exhibitions over the years. For ten years, I taught Art and Art History to Jr. High and High School students, and still get excited sharing in the joy of the "aha" moments with people. Lifetime Arts, a national online directory of teaching artists for older adults has added me to their roster of teaching artists.
My passion is art making and encouraging people to connect with God through creativity. Teaching Art Journaling and Art & Faith workshops in person and online are ways I live out that passion and connect with other like-hearted people. Through teaching and writing, my hope is to inspire people to believe in and improve their creative ability. Taking time to listen and respond to God through art making is a natural part of my life and faith journey, a combination of being and doing, a collaboration and conversation with God.
Prayerful Doodling book published in 2018, is an outgrowth of connecting with God through creativity. In the book Paintings, Prayers, and Passages, I tell my faith journey through art. You may also find my work in Complete Guide to Bible Journaling and the Holy Bible: Mosaic, and Somerset Studio and Art Journaling magazines. In 2016 I worked on, and published through Taunton Press, two faith-based coloring books, Colorful Blessings and Colorful Blessings: Celebrating Everyday Wonders.
Currently, I am blessed to be living an artful life in Hillsboro Oregon, in the beautiful Pacific Northwest with my husband Keith. We have three grown married children and eight grandchildren.
Testimonials:
"Valerie, I so enjoy and learn so much about each passage as I journal with you. I so enjoyed these lessons. Thank you so much for sharing your talent!" ~ Patsy M.S.
"LOVE the Messianic Seal Stencil! It was the first one I wanted to use but I didn't want to mess it up so I'm glad I waited! Did I mention the class is phenomenal! Thank You Valerie Sjodin - your tutorials are a blessing!" ~ Suzanne R.


"Valerie Sjodin your lesson on Proverbs 3:5-6 really had an empowering impact on me. I loved what you said about Trust, and it is just what I need right now. It was like God was speaking directly to me, "Do you really trust me? Even in this (hard thing)?" and with the word trust being unpacked and laid out there to a whole new and deeper level than I had previously thought--to throw one down upon his face--to become intimate with him in what you do, to be vulnerable and surrender all to His goodness and character. It is a big challenge laid before me, yet I finished the lesson not burdened by the challenge, but empowered to take the next right step knowing God will give me all I need for each step. Thank you!" ~ Merri L.


"I love working with the stencils - they help expand my creativity giving me ideas when I feel a bit stuck." ~ Linda E.


"I have enjoyed Valerie's e-courses very much." ~ Sally K.


"I like how you can still read all of the scripture and it's still got lots of personalisation and artwork on it" ~ Denise G.


"Wow Valerie. 14 lessons! [3 bonus lessons were added to original course] You have put an immense amount of work into this. Thank you so much" ~ Bernice H.

Supply List - All Media:
The Passion Translation New Testament, Psalms, Proverbs, Song of Songs or individual books (I use for reference) Optional
Stencils: StencilGirl® Products – Stencils included in class: L575-Bible-Journaling-Figures-L575-Sjodin, Stencil-L576-Bible-Margins-Faith-Love-Joy-Peace-L576-Sjodin, Stencil-L578-Spirit-Wind-L578-Sjodin, Stencil-S510-Bible-Journaling-Christian-Symbols-#1-S510-Sjodin, Stencil-S511-Bible-Journaling-Christian-Symbols-#2-S511-Sjodin.
Optional stencils that can be added to class purchase: Stencil-L577-Pomegranate-Apple-Grape-Flower-Mask-L577-Sjodin, L003-Ward. These two stencils are only used in one lesson each and could be substituted with something you already have, so I didn't put them in the set. They are both versatile though and if you would like them added to the set, they are available from me or from StencilGirl® Products.
¾ - 1" soft flat or filbert brush for painting Gesso on Bible page
Transfer paper: white wax-free transfer paper, and graphite transfer paper
Non-stick Heat Pressing Sheet or Release Paper to use with Craft iron. Sheet can also be used as protective sheet under Bible pages and palette for paint and Gelatos®
White paint pen in smallest nib size possible such as Posca Ultra Fine White Acrylic paint pen
Dry Media:

Wet Media – Fluid Acrylic Paint
Fluid acrylic paint (Golden Brand or DecoArt Media suggested): Iridescent Bright Gold (Fine), Light Copper (Fine), Ultramarine Blue, Quinacridone Nickel Azo Gold, Titanium White, Phthalo Turquoise, Sap Green, Green Gold, Red (such as Pyrrole or Naphthol Red Light), Diarylide Yellow, Paynes Gray, Quinacridone Magenta, Quinacridone Crimson, Phthalo Blue or Cobalt Blue. If you are new to painting, there is a starter set with the following colors: Hansa Yellow, Pyrrole Red, Magenta, Ultramarine blue, Phthalo Blue, Phthalo Green, Yellow Oxide, Burnt Sienna, Carbon Black, Titanium white. NOTE on color mixing: The Phthalo blue and a tiny amount of Phthalo green can be mixed to get a color close to the Turquoise I use. A small amount Magenta mixed with Hansa yellow can come close to Diarylide Yellow. Ultramarine blue and black together make a color close to Paynes Grey. The primary colors of Golden brand to make most colors are Quinacridone Magenta, Phthalo Blue, and Hansa Yellow.
Toothbrush for spattering
Fine round paintbrushes that come to a good point such
Small spray bottles (travel size) for paint sprays (used in 1 lesson). I bought very small spray bottles I am very happy with from Amazon. The advantage of them being so small is that only a very small amount of paint is used.
Paper towels, Viva is my favorite brand
Isopropyl (rubbing) Alcohol to clean stencils and as an acrylic paint remove
Frequently Asked Questions
When does the course start and finish?
The course starts now and never ends! It is a completely self-paced online course - you decide when you start and when you finish.
How long do I have access to the course?
After enrolling, you have unlimited access to this course for as long as you like - across any and all devices you own, as long as the course is on Teachable. If this school ever closes you will be notified.
What if I am unhappy with the course?
Because the full course content is available to you immediately after purchase, there will be no refunds. However, I want you to be happy with your experience in this course. If you are unsatisfied with your purchase, you may contact me at
[email protected]
Thank you!